Third Act

Creative direction, brand voice, and digital strategy for Bill McKibben's newest project, Third Act, a national climate justice movement led by Americans over 60.

Creative director
Art director
Design program manager
Visual designer
Communications strategist

I'm wearing many hats for this project, from high level direction to hands-on implementation.

I'm also directing a junior designer, a communications associate, two campaign strategists, and a developer at Third Act, as well as commissioning external artists, photographers, and videographers.
Developing a brand identity while simultaneously promoting a large, public-facing iniative.

Third Act is one year old. At the outset, it had a beautiful logo and visual identity designed by Collins. But with next to no internal design capacity, it was largely abandoned.

I came aboard in December to steer the ship back towards the original design intent by expanding the brand guidelines, codifying a brand voice, developing plug-and-play templates for web and social, and creating a cohesive communications strategy for the central organization to reach prospetive members and supporters.

Oh, and to design and implement campaign materials for an imminent national Day of Action!

Third Act is a nationally distributed coalition of Americans over 60. They are largely organized through working groups by location and affinity.

As such, I discovered that brand assets had made their way through a game of DIY design telephone, reulting in rogue websites, sub-branded logos, and off-tone copy. I realized quickly that I would have to yield a certain amount of quality control, letting some fires burn while we build a new house.

So, my aim is to shore up the central organization's identity and voice in a concentrated effort to grow brand recognition, while simultaneously building internal capacity that will ripple out to the volunteer-led working groups.

I also endeavor to increase representation of elder Americans in online spaces. Third Actors are the heart and soul of the organization's work, and I want their voices to be front and center.
With a big National Day of Action planned for March 21, 2023, I put some elbow grease into Third Act's social media channels so that there was a "there there" when new visitors landed.

Because Third Act's demographic skews older, social media hadn't been leveraged effectively as a tool for audience growth or engagement. There is a huge opportunity for reaching the next ring out from Third Act's main audience: to their kids and grandkids and youth activists.

I churned out content that was formatted correctly for the best experience and performance, like vertical videos and higher quality images, and text-lite graphics.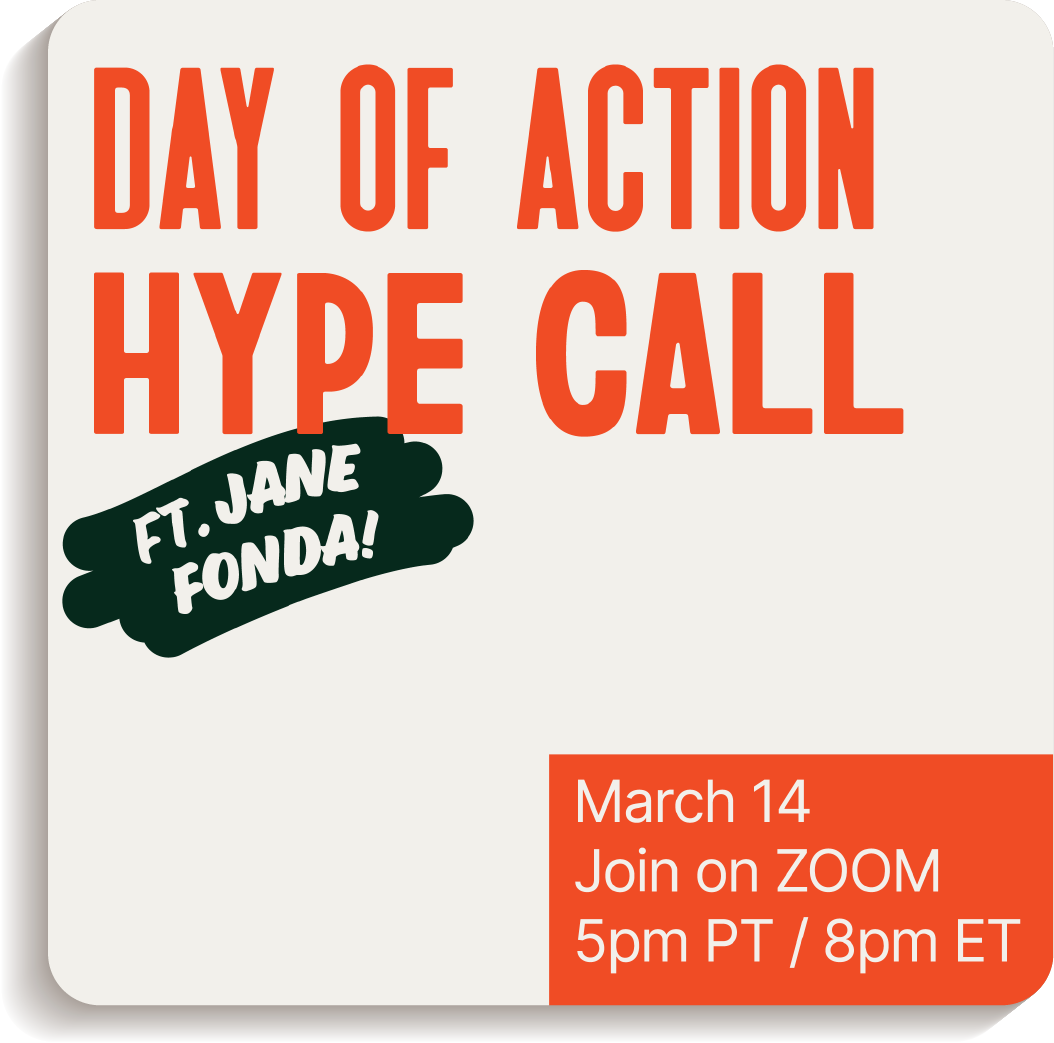 I designed and created templates for standardized content, like event announcements and working group launches, as well as some simple graphics for digital campaigns.

The majority of Third Act's own image library is from protests, which don't tell the hollistic story of the organization. Additionally, when overused, become less impactful and less legible.

I used typography as the main visual content for these evergreen templates, lending a sense of balance and information hierarchy to Third Act's feeds.
Social media insights (all organic)
---
Total Followers +39.5%
Accounts engaged +829%
Accounts Reached
+2,468% (42.9K)
Highest performing reel
21.1K views (previously 3K)
---
Additionally, Third Act's mailing list grew from 35K to 50K.
Uplifting intergenerational interactions. Ohio University student André at a Third Act protest.
Highlighting celebrity endorsements. Senator Bernie Sanders for Third Act.
Amplifying authentic representations of older Americans. Third actors Claudia and Edward, Denver, CO (and their cat!)
My goal is for the general public to see themselves reflected in Third Act's content.

Third Act had produced a few promotional videos. Because they were longer in length (~5 min), horizontal, and heavily branded, they didn't perform well on social. The juice wasn't worth the squeeze.

I pivoted towards creating shorter, first-person clips that would have more milage, positioning Third Act as a community, rather than an institution.

I wanted to largely avoid slick and over-produced video content while maintaining some editorial rigor. The aim here is to find a middle ground, where providing direction can enhance the homegrown quality of user-created videos, not subsume it.

When working with high-profile Third Actors and celebrity endorsers, I wanted the content to read as genuine as any other user-created media. Videos by actors Bette Midler and Jane Fonda, singer Carole King, senator Bernie Sanders, writer Rebecca Solnit, mountain climber Kitty Calhoun, and ocean conservationist Wendy Benchley, fit seamlessly within the stories and experiences of our audience.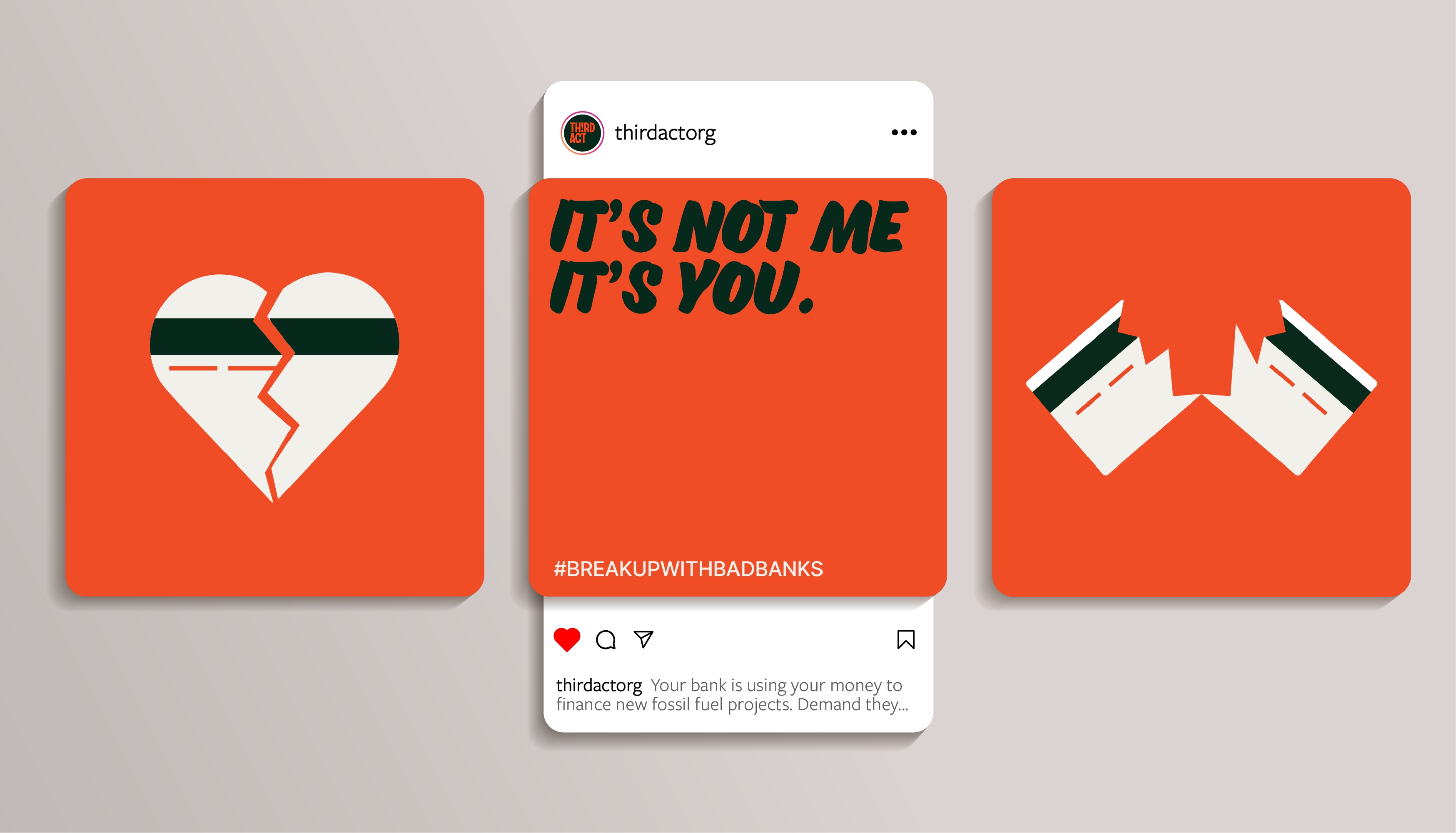 Break Up with Bad Banks
Valentines Day Campaign


Five weeks out from the National Day of Action, I used Valentine's Day as the launch for new and in-process brand assets.

I collaborated with an external designer on a series of graphics to accompany Third Act's "Banking on Our Future Pledge," which encourages big bank customers to move their money away from institutions that continue to finance new fossil fuel projects.

Through this creative development work, I added a tertiary typeface to Third Act's branding that created more opportunities for dynamism in type-centric graphics.

This campaign was a chance to develop subsideary graphics while evolving Third Act identity. It was also a trial run of sharing visuals with partner organizations for a cross-instituional campaign.

This 1 week project yielded ~7,000 new signatures to a pledge that had been active for over 6 months, for a total of 17,000 pledges.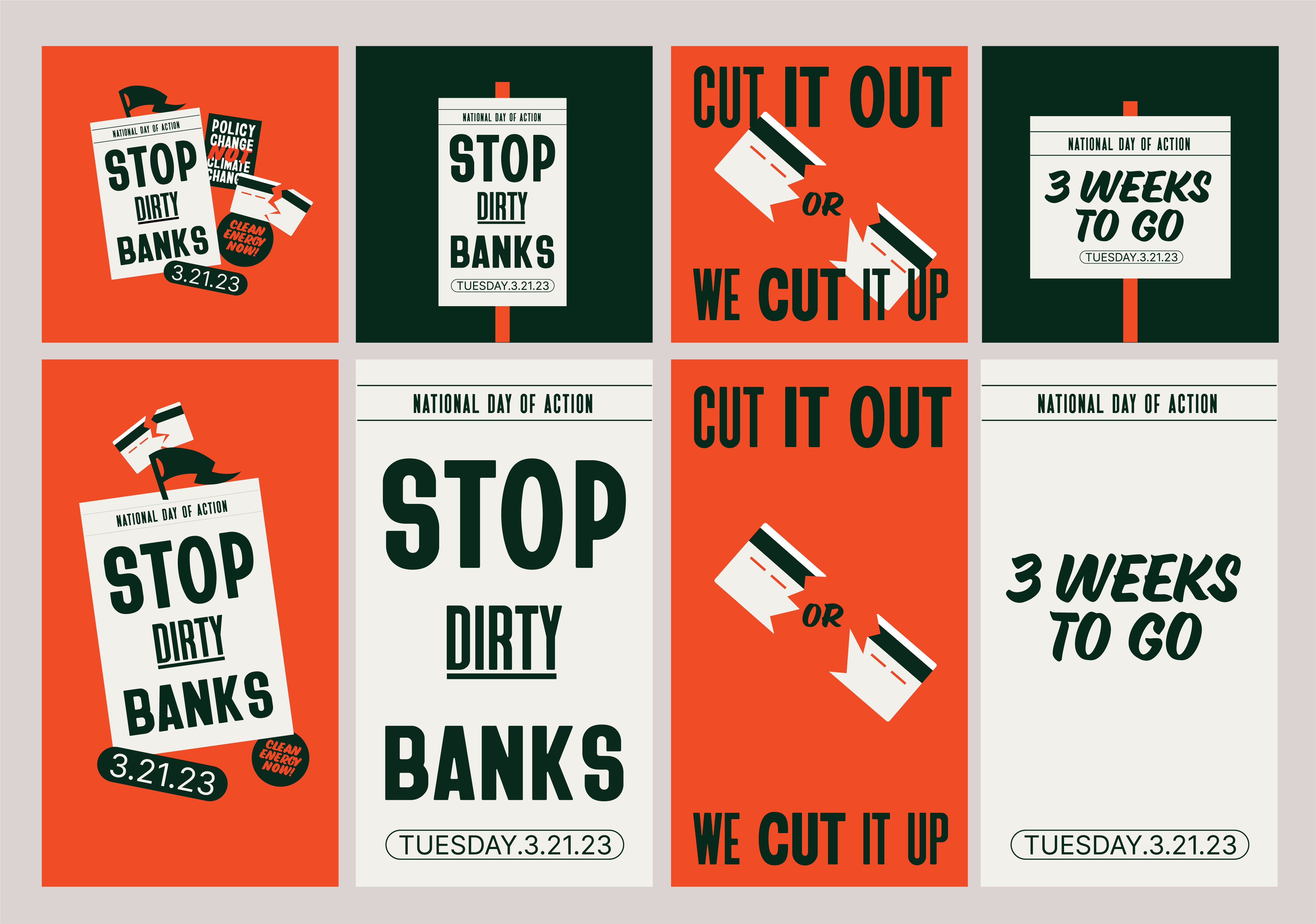 National Day of Action
Promotional graphics
The National Day of Action comprised 100+ events and actions with 50+ partners across the country protesting the 4 big banks, Chase, Citi, Wells Fargo, and Bank of America.

Because this was a deeply partnered initiative, I wanted the promotional graphics to embody Third Act's brand identity without relying on the logo, so partners could use them on their own channels, creating a drumbeat of recogonizable content and preventing the dillution of individually branded content.
National Day of Action
Artwork
For the physical protests and demonstrations, it was important that there be Third Act presence, but without being overly corporate or uniform. When it comes to capturing press and public attention in street activations, variety is truly the spice of life!

Third Act had commissioned social movement artists in the Third Act network to create artworks and easy-to-follow templates for the public to create handmade signs, banners, cloth patches, and other props. I pulled from these elements to create printed hand-outs and flyers for the day.

Art kits made their way across the country where local action organizers engaged their participants in art builds and practice events to build anticipation and visual material for the day-of.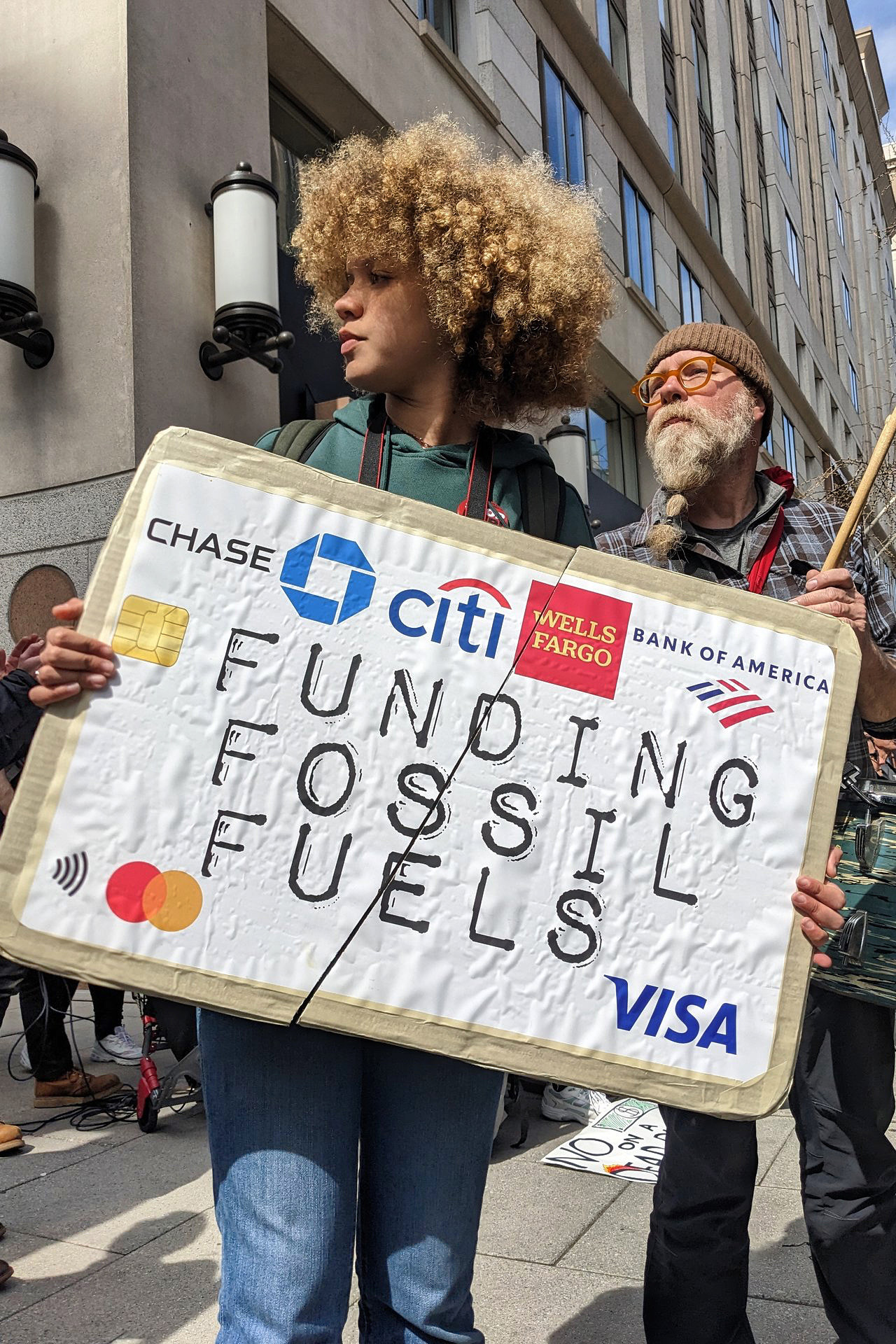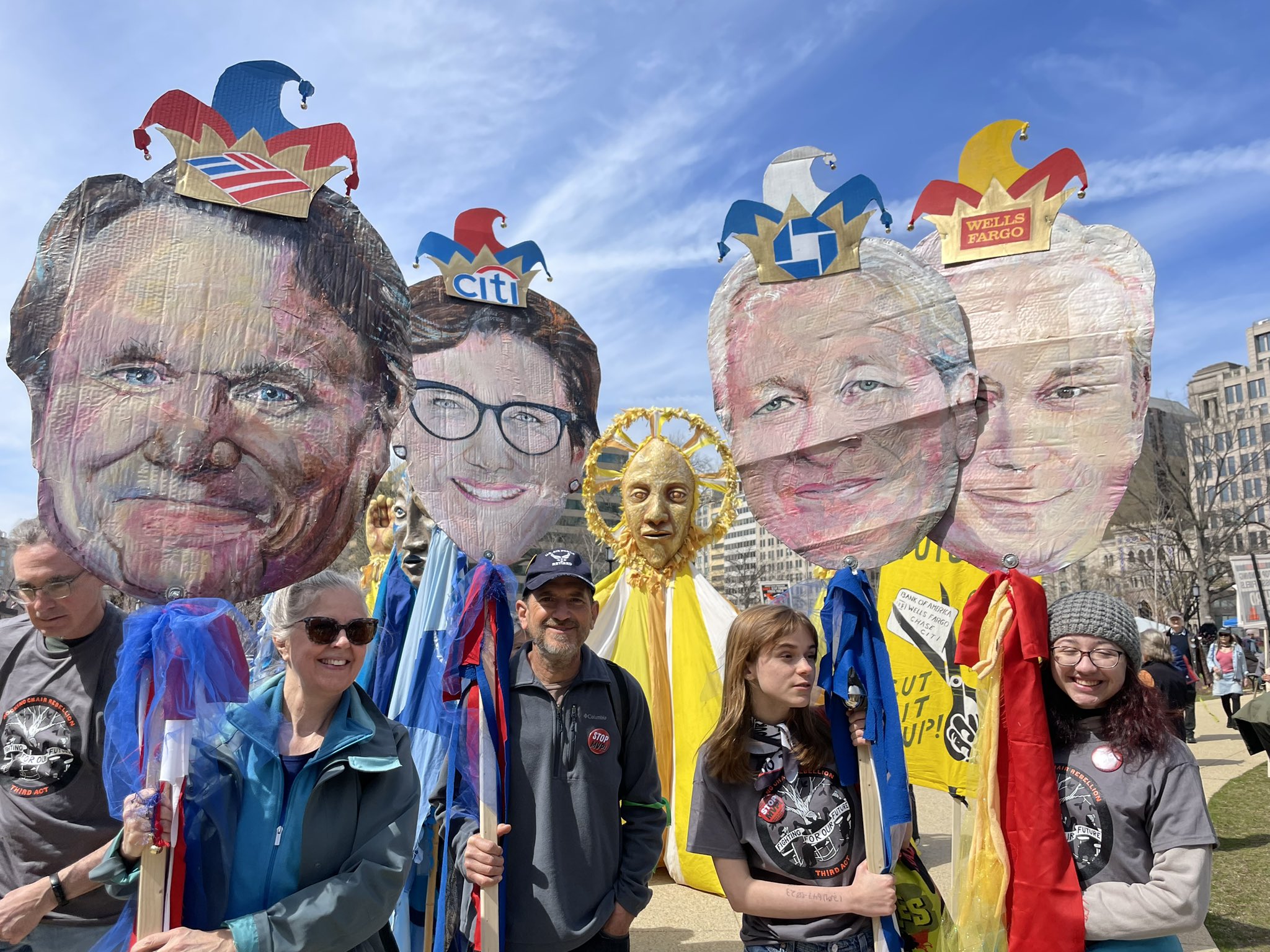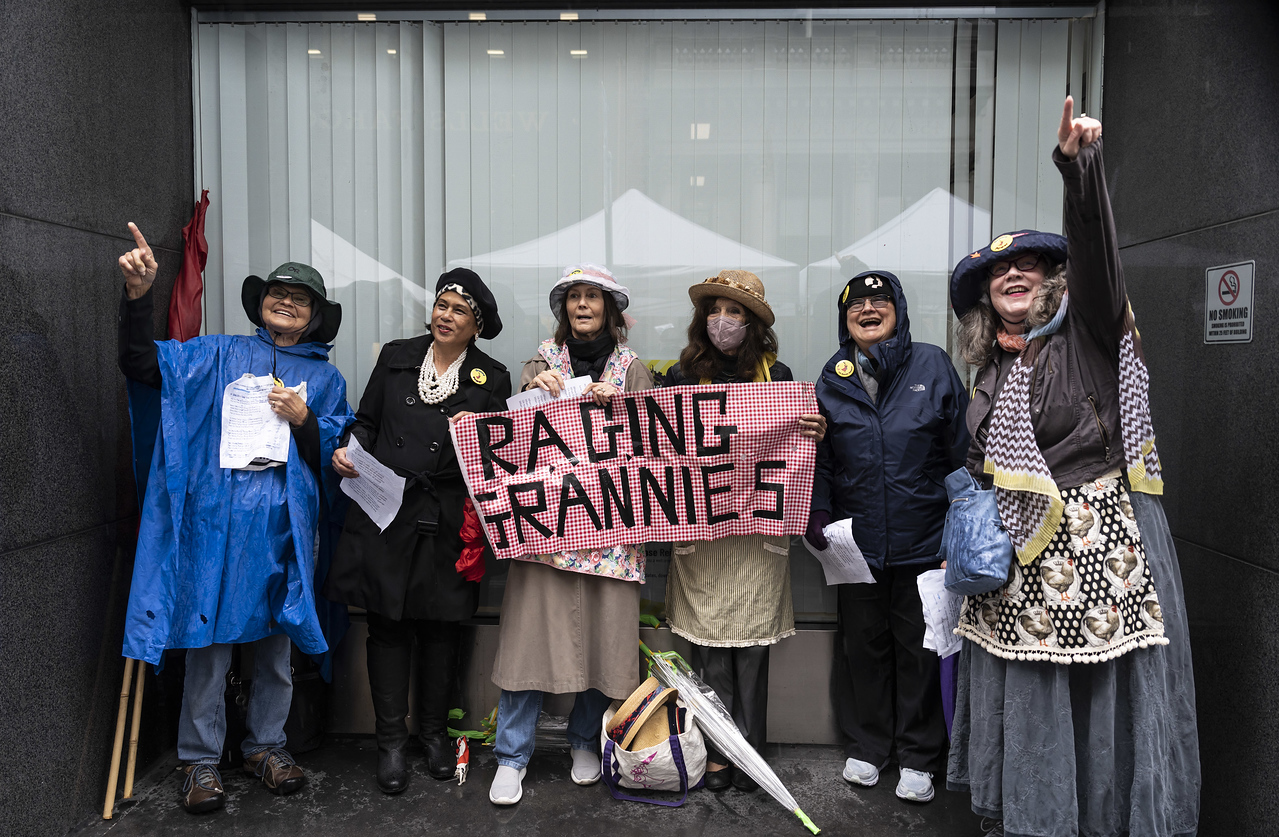 ---
Magnum Foundation

A brand identity redesign to give the Magnum Foundation a unique and modern presence set apart from its founding institution, the renowned Magnum Photos agency.

Design director,
Magnum Foundation

Collaboration with Bellwether Design
Managed a team of three agency designers
It's a delicate task to give an existing arts and culture institution a refresh, especially one born from an iconic 70+ year history. Magnum Foundation was established in 2007 by members of the Magnum Photos cooperative, which dates back to 1947.

In my second year at the helm of communications, I led Magnum Foundation through a redesign that would position the organization to be forward looking, aligning with our mission to expand creativity in the field of visual storytelling and support a rising generation of imagemakers.
At first, an inherited logo lent us brand recognition and credibility, but over time it caused conflation. Functionally, the logo was also difficult to scale down and often rendered illegible.

With fervent stakeholders across both institutions, including the 50+ voting members of Magnum Photos and the 10 board of directors at the Magnum Foundation, this project was an especially sensitive undertaking. I made a series of pitches to both institutions and managed feedback collection between design reviews, addressing concerns and input without sacrificing clarity of vision.

In parsing out what was distinctly Magnum-esque about the existing brand, the red square emerged as a key identifier. But this was also the greatest limitation of the existing logo. I wanted to preserve its legacy while subverting the weak point as a strength.

Ultimately we brought Magnum Foundation "outside the box," pairing the square mark with approachable, upper-and-lower sans-serif typography to balance the rigidity of the square.

In the field, Magnum Foundation is widely known as "MF," so I wanted to honor and emphasize the abbreviation in the design treatment.

Bellwether created a bespoke "M" that was sharper, more pointed, and ultimately more distinct.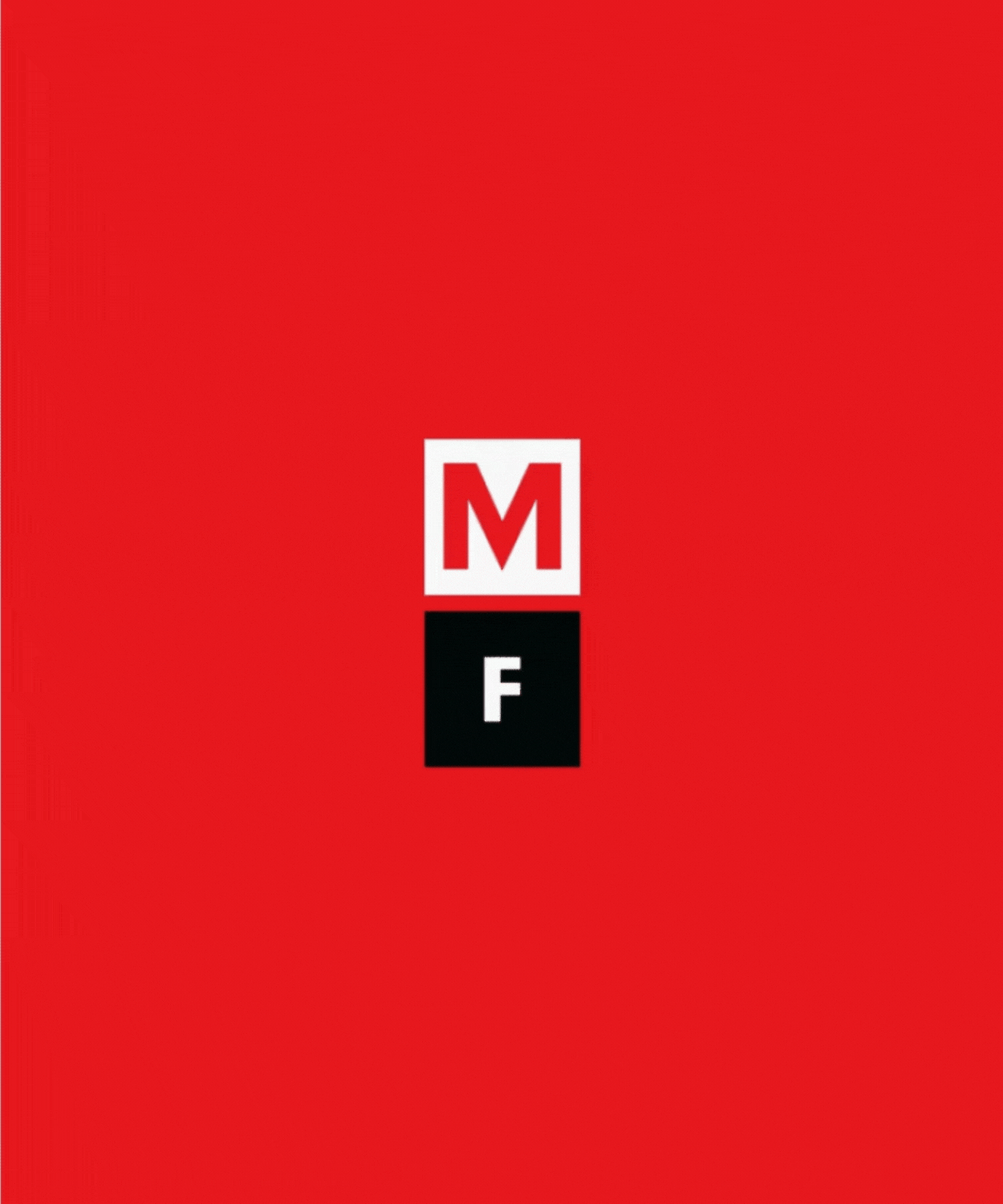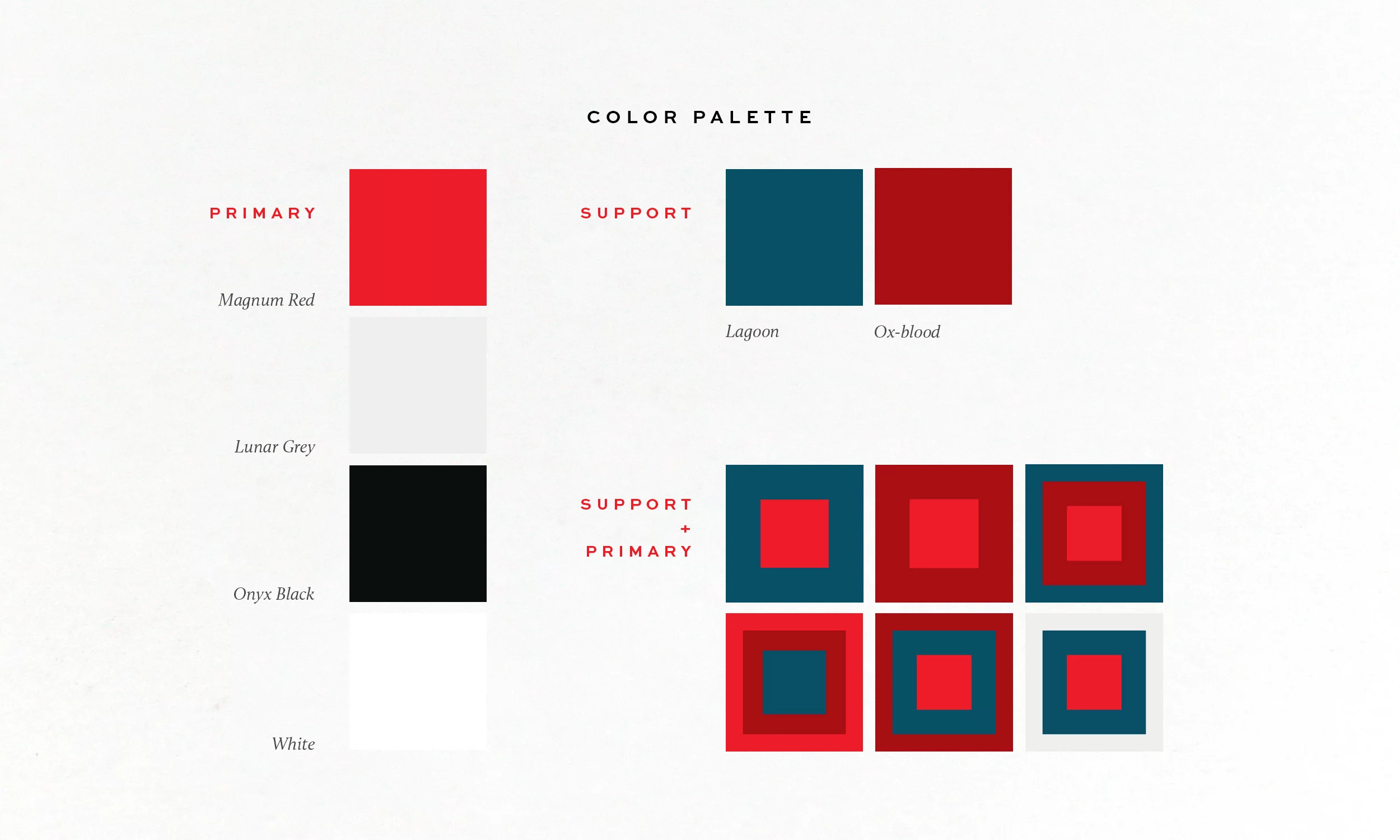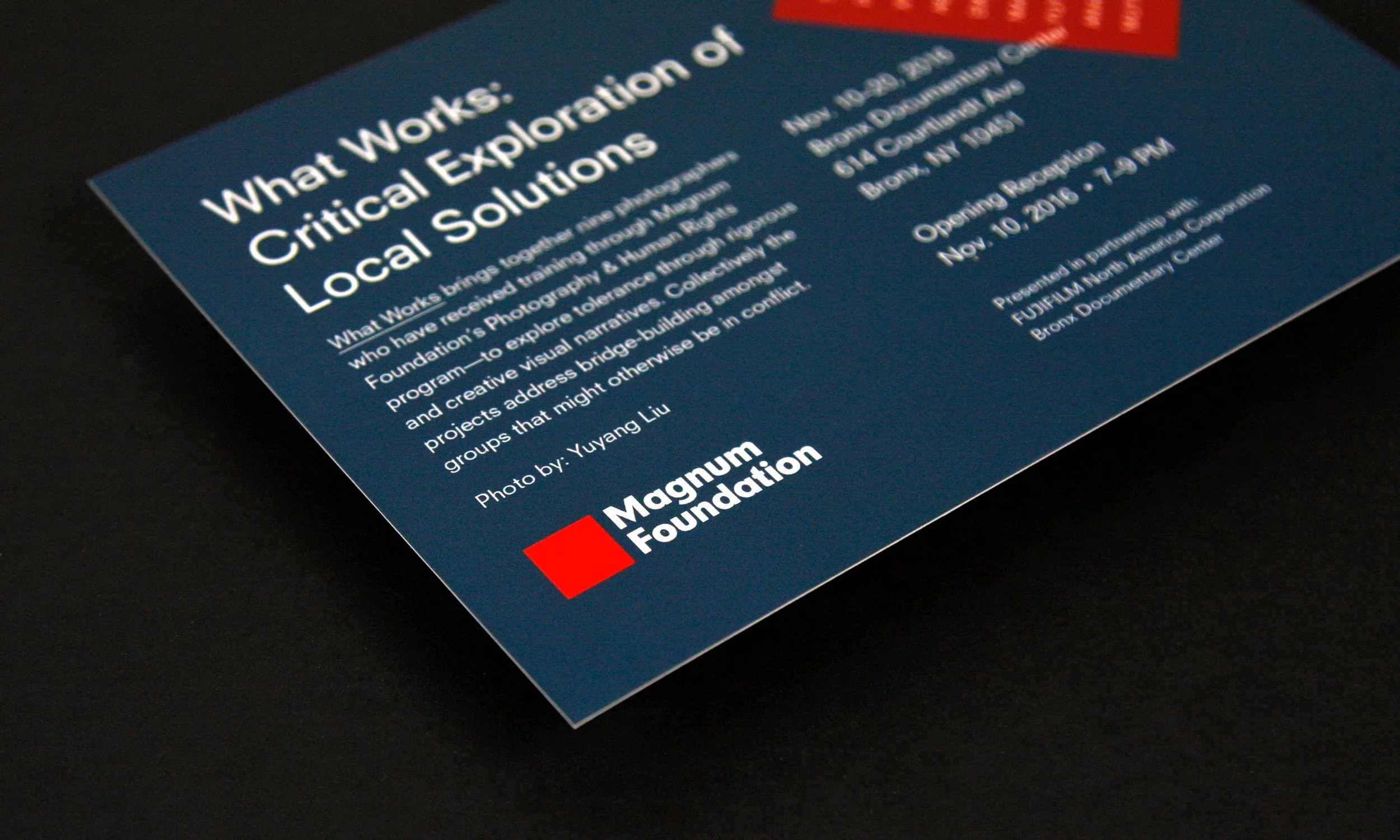 As a funder of interdisciplinary and multimedia work, the signature and monogram logos are flexible for a variety of contexts across print and web.

The square can also act as a container for images in special instances, reinforcing a visually centered brand.
Using the brand redesign as a launch pad, I brought the website in-house. I designed and built the website in Squarespace for our programmatic staff to be able to make updates to content on their own with minimal oversight.

The brand redesign was also essential to MF's annual fundraising appeals. We went from producing hand-made cards for a select group of individual donors that required stamping and taping, to a material-centered package that relied on textured envelopes and folding to convey preciousness, increasing our capacity to produce them.

I shifted the messaging strategy from a year-end "thank you," to a specific monetary ask. This new direction and design workflow grew our highest donor tier by 3x in the first year of its application.

I also leveraged the redesign in Magnum Foundation's most successful capital campaign to date, raising funds to buy the New York City office space and create a permanent home for the organization and its global network of grantees.